Kimpton Flooring Are the leading specialist in lining clean rooms with flexible sheet vinyl. We are a well established friendly company which offers a professional service to many leading Pharmaceutical Manufacturers, Research Laboratories and other end users that require very durable, sterile, easy clean surfaces which will not crack, flake or chip as is often the case with more expensive solid laminates, plastic cladding, paint and resin coatings.
The 2mm thick sheet vinyl cladding is available in various grades to suit all requirements, including fire retardant to BS476 class 'O', flame spread, anti-static for electronic production facilities and slip-resistant for wet areas. The sheet vinyl is specially produced with reduced flecking, no surface polish and added fire resistance.
Kimpton Flooring Perfected the method of fully coving Floors, walls and ceilings of Clean rooms and then applying 2mm thick, 2 metre width, heavy duty Flooring grade sheet vinyl, to the ceilings and walls of new and existing clean room areas, the forming of the vinyl around all coved corners and using a contrasting colour vinyl on the floors. All seams, joints and mitres are then thermo-welded with matching vinyl welding rods which are cut and smoothed flush so as to give an impervious surface all over. The finished product is bright, easy to clean and will enhance any working environment.
The fully flexible 2mm thick sheet vinyl cladding is also the ideal solution for lining Walls, Floors and Ceilings in Wet rooms, Shower areas and commercial Kitchens as all seams and joints are completely thermo - welded sealed against moisture and bacterial ingress.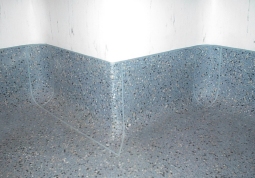 Detail showing safety flooring coved up to meet flush with wall vinyl
With inset thermo-welded 'shield' internal mitres
and flat edge welded return external mitre.
---


Kimpton Flooring Offer a relatively low cost cladding solution to Walls, Floors and Ceilings in clean room areas, as the sheet vinyl can be fixed directly over standard tapered edge plaster boarding that only requires the joints taped and skimmed flush.
The plasterboard can be fixed directly over existing wall and ceiling finishes without the need for costly paint removal and re-plastering.
Alternatively, the plaster board can be fixed as a double layer over standard Gyprock type galvanised stud work which enables services and pipe work to be run inside the cavity behind the stud wall.
This method enables clean rooms to be renovated or installed without costly down time waiting for block work and plaster to dry out.
Call our Technical department for further details, specifications and installation advice on: 02920 866 222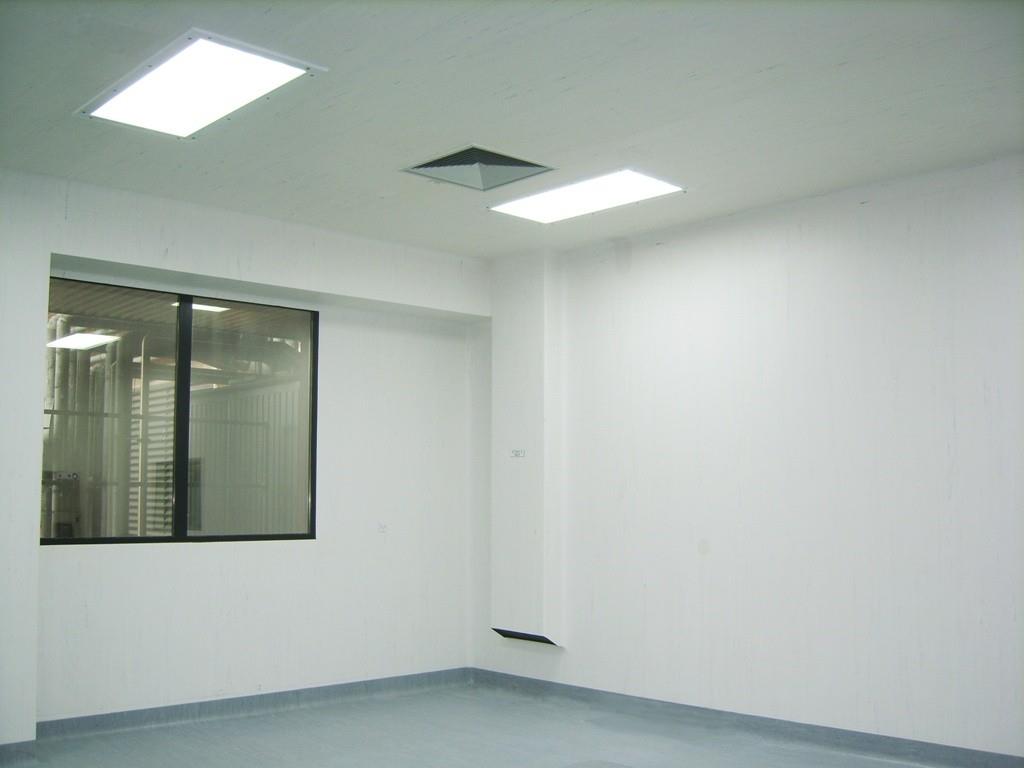 2mm Sheet Vinyl Cladding to Walls, Floor and Ceiling in Sterile Laboratory as Installed by Kimpton Flooring.
Note how vinyl sheet is clad around drop down return air duct.
---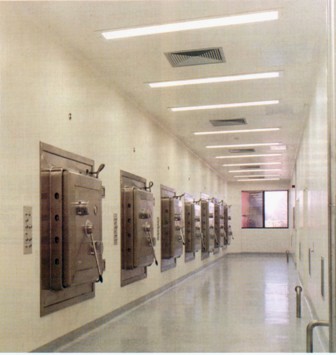 Main Autoclave area fully clad in 2mm thick sheet vinyl
As installed by Kimpton Flooring
London Blood Laboratory, Elstree, Herts.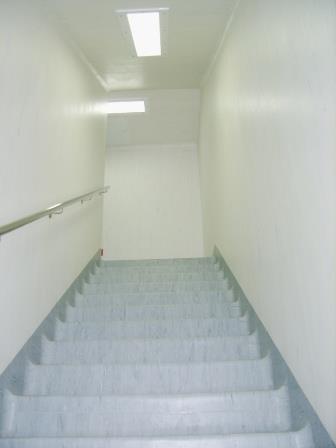 Click on image for details.
Major project completed at London Blood Laboratory, Elstree, Herts.
Kimpton Flooring carried out and installed the single largest clean room vinyl cladding project in the UK - The London Blood Laboratory, at Elstree, Hertfordshire.
We installed over 40,000 square metres of specially produced Flame retardant Gerflor 2mm thick, heavy duty sheet vinyl was applied to Walls, Floors and Ceilings in Laboratories, Corridors, Production and Storage Areas.
The flooring was thermo-welded to the wall vinyl and all internal mitres on floors and ceilings were fitted with separate 'Shield' type inserts to avoid single sharp corner joints that could encourage a build up of grime.
Likewise, all external mitres were formed around the sharp edge and thermo-welded on the flat side so as to make much stronger, barely visible easy clean corners.